It's 2016. You've got a Facebook page. Your partner has a Facebook page. Your kids have Facebook pages. Even your elderly next door neighbor has a Facebook page. So, if you've got a business and it doesn't already have its own Facebook page, then it's time to act. Despite the ever growing variety of social media sites, Facebook is still ranked as the #1 social media network. It gets the largest amount of traffic to its site and also sends the largest share of social media referral traffic to external sites.
Convinced? We thought you would be, which is why we're making it easy for you to get your business page on Facebook started and advertised with this new Facebook guide for 2016:
Set up your page
This is the easiest part of the process. The only thing you need to be begin setting up your Facebook page is a personal Facebook page. (Don't worry. No one has to know about your personal profile. This information stays behind-the-scenes.)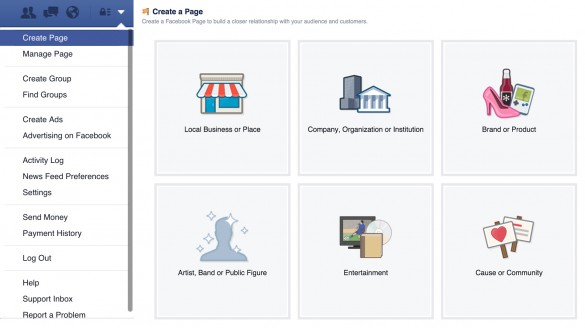 Once you've logged into your personal Facebook account, you'll select "Create Page" from the small drop-down arrow in the top right corner of the blue header bar. Then, Facebook will prompt you to select what type of page you're trying to create (business, brand, entertainment, public figure, etc.). You'll be asked for some basic information, such as what category best fits your page, as well as the name for your page, location, telephone number, and website. Finally, you'll be prompted to provide a page photo and description. For the photo, we suggest uploading a picture of you (this is social, after all), your most public-facing employee, business logo, or an image that represents your business. You'll be asked whether you'd like to add your page to your Favorites. Go ahead and do it. It will be easier for you to find and manage it from your personal Facebook page.
Once all that's done, you can choose to promote your newly created page through Facebook's advertising, or skip until you've got some more content to share with the world.
Create compelling content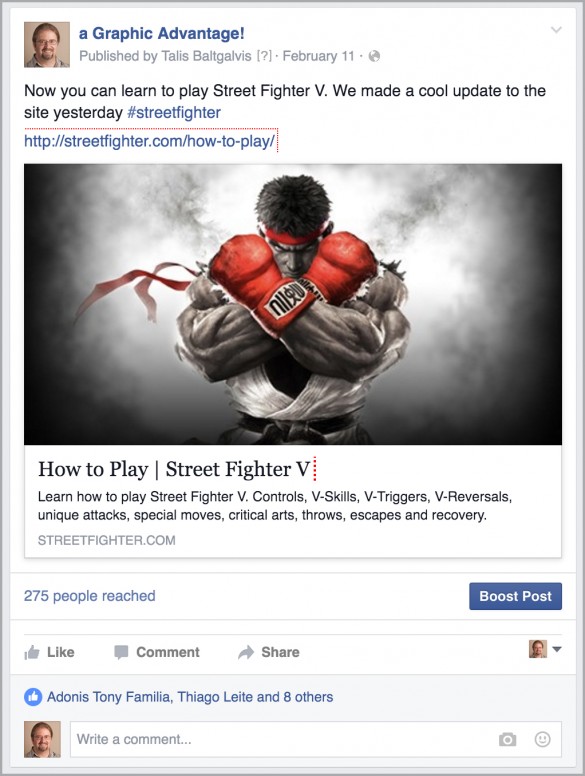 There's no point in trying to target the right audience if once they get to your page, there's nothing compelling for them to look at. Facebook provides some tips on what makes for a good post:
Short text: Between all the friends and pages most people follow on Facebook, there's no time for reading a whole lot of text, so keep your posts short, sweet, and intriguing.
Use Eye-Catching Photos: Whether it's a product you want to show off or a picture of your employees at work, use clear and interesting photos. Posts with photos are more likely to get noticed than plain old text posts. (You can also add several images to one post, which will display in a slideshow-style.)
Share Exclusive Content: If there's somewhere else that your readers can get news on a sale or info about your business, they might not be enticed to follow your page on their Facebook feed, so be sure to provide them with something they can only get through your Facebook page.
Add Links: Add links back to a specific item or page on your website. When you add a link Facebook will also automatically choose an image from your site and make your link that much more noticeable.
Find your audience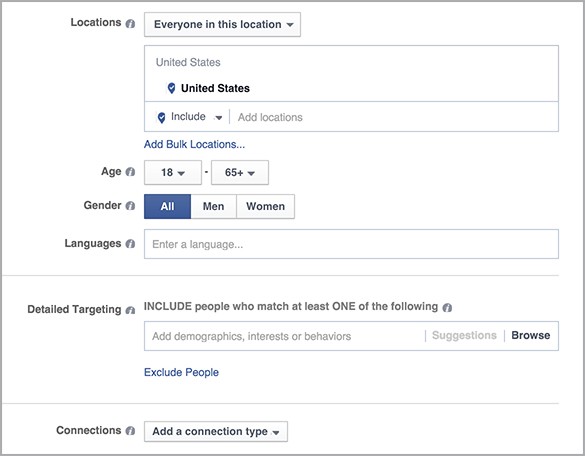 The point of social media for a business is to connect with customers and potential customers. If you've been in business for some time before starting your Facebook business page, then you probably already have some idea of who your customers are. Now, all you need to do is find them on Facebook and say hello with an ad in their newsfeed. Start by using Facebook's targeting options for ad placement.
Facebook's ad targeting options help you reach the people that your business can help. You can target ads based on:
Location: If you're a local restaurant owner, then you probably don't care if someone who lives 300 miles away from you is seeing your ads. So, be sure that only your customers or potential customers are seeing your ads – you can target areas as large as an entire city or state or areas as small as your zip code or local community.
Demographics: How old is your target customer? Are they male or female? What language do they speak? If you know these answers, then you can use them for targeting your customers.
Interests: Similarly, do you know what your average customer likes to do? If you're a golf ball retailer, then you could safely assume that one of your customers' interests is definitely golfing. Set your ad to reach those interested in golfing, and you know you're going to pique some interest.
Behaviors: Again, you can use your customer knowledge to assume their behaviors, and target ads for those behaviors too.
Connections: If your page is already liked by some people, say hello to the friends of those people. Hey, their friendship may be based on a common interest related to what your business offers.
Start conversations with Facebook Advertisements
Now it's time to increase customer traffic to your website and get your customers talking on your Facebook page. Advertising with Facebook can really help. And, thanks to Facebook's targeting options (mentioned above), it's easy to focus on the people who can help you reach those goals.

From your Facebook account, select "Create Ad" from the small drop-down arrow in the top right corner of the blue header bar. Then, you'll enter your post (including any links or photos you'd like to include). Facebook will prompt you to target your audience based on location, demographics, interests, behaviors, and connections. Now, choose a budget for your ad and how long you'd like to run the ad for. Facebook will display an expected response to your choices. If that looks worth it, place the ad.
Once your ad is up and running, you can easily manage all of your ads by selecting "Manage Ads" in the same drop-down menu in the upper right corner. Here, you'll be able to review all the ad campaigns you have running and see their results and costs.
Measure & Adjust with Facebook Page Insights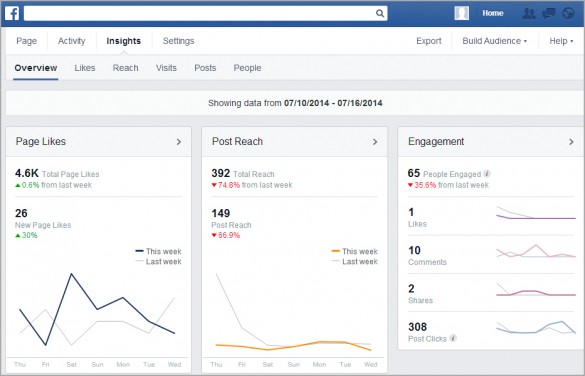 Finally, as a business owner, you know that in order for a business to continue growing it's important to review goals, target audience, and other data. Facebook's "Page Insights" lets you do this easily.
At the top of your business's page, you'll have a tab titled "Insights." Clicking on it will open up all kinds of data on who is looking at your posts, at what time, when, and where. Facebook gathers general data about your audience and provides it at the top of your Insights page. For more detailed information, you can click on the links to the left or click on the individual posts at the bottom of the page. Some terms you'll see, include:
Likes: In general, the number of "likes" your page is how many people have selected to click on the "like" button on your page. Just because someone likes your page doesn't necessarily mean they'll see all your posts, but it does increase the likelihood (and you can target people who like your page). People can also choose to like a post. You can gauge how popular a post is based on how many people have liked it.
Reach: In short, this is how many people actually see your posts. This number may fluctuate from week to week, depending on how engaging your post is. Unfortunately, as mentioned above, Facebook doesn't always show your posts to everyone who likes your page, but you can encourage your customers to get your posts by asking them to turn on their page notifications.
Visits: Here's where you can see what it is about your page that people liked. Maybe they loved clicking on the "Photos" section of your page or maybe your "Videos" tab was more intriguing to them. You'll also be able to get a general idea of where on the web they came from.
Posts: In this section, you'll not only be able to see all of your published posts, but you'll have the option of "watching" other pages (competitors) and seeing what their top posts for the week were. This section also provides information about what time your audience is typically online, and which type of post they prefer (photo, video, or text).
People: To reiterate, Facebook is great about providing you with demographics about your customers and audience. You'll see information such as gender, age, and location in this area.
Thankfully, Facebook makes it fairly easy to build a great social media profile. Facebook's tools are easy to use and, for the most part, walk you through each step. While our guide features some great all-around basic information (in an all-in-one package!) it is in no way a detailed account of every little thing that Facebook has to offer. If you'd like even more help on how to take your business's Facebook page to the next level, please contact us at A Graphic Advantage!